Offer: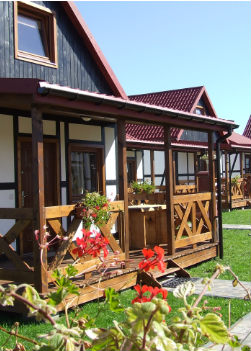 Sonar is seculated area, located about 1000 meters from the Baltic Sea. We find here 9 cottages, cafeteria, parking, playground for children and place to light campfire.
Resort provide free internet hotspot. Cottages are build from wood, to a high standard. In each cottage will find: living room, kitchen, separate bedroom, and bathroom. Each cottage has a TV with local and satellite programs. Each cottage has 12.5 m2 covered terrace. Resort is loacted away from street, is fenced and lighted. Additionally there is a possibility to rent a bike and make loundry on the spot.
Entrence to the beach is a forest path visible on photo on the right.
The beach is wide and clean. and above all, it's not crowned. Bobolin is small village, so there's no problem to find free space at the beach. Large amouts of iodine and pure oxygen from the local forest - that's makes the air is crystal clean. Our offer is ideal for people who want to peace and quiet holiday - away from crowned beaches of Sopot, and loud parties of Mielno.
Walking, riding on bike, fishing on near-located river - this are few of attractions offered by Bobolin. People leaving this place regenerated, happy and smiling.
Bobolin